Community Engagement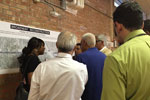 Community engagement occurs at various phases of a project. Depending on the complexity of the project, a community meeting may be held, or a neighborhood may receive a Project Information sheet in the mail. The phases of a project are generally:
Planning – The Planning stage of the project is when Public Works and Engineering Department and professional engineers study areas of the City that have been identified by the Department's engineering methodologies for possible improvements. Engineers then develop alternative solutions for pavement, mobility, and drainage improvements. Community input is necessary to ensure that any project being considered for future funding reflects the context of the community.
CIP Townhalls – This is the City's annual Capital Improvement Plan (CIP) meetings held each spring. At this meeting, PWE will showcase its proposed CIP projects for the year and the need areas that were studied for potential projects in future CIPs.
Design – Once a project has been approved for funding in the City's Capital Improvement Program, the project will proceed into preliminary and final design. Prior to moving into final design, a community meeting will be held which will allow the Department, the design engineers and the community to discuss the project components and make modifications, if required and economically feasible, before the design is finalized. This is a good time for the community to get more detailed information about the actual design of the project.
Construction – The Construction Phase meeting will occur at the Councilmember's request either immediately prior to the start of construction, or shortly after construction has started. This is the community's chance to review the construction plans and work directly with residents and businesses about construction-related impacts and schedules.
To comment on a project, or get information, email info.rebuildhouston@houstontx.gov
Project Name

Location

Information

30-inch & 36-inch Cast Iron Water Line Improvements
Along South Blvd. and Westpark Dr.
(Project No. S-000901-0013)
Begins at the intersection of Westpark Dr. and Edloe St. and extends in an easterly direction along
Westpark Dr, Kirby Dr, South Blvd, and Berthea St, ending at the intersection of Berthea St. and Montrose Blvd.
Construction Meeting Presentation
30-36 inch FAQ's
54-Inch and 108-Inch Water Line
S-000900-0127 (54-Inch)
S-000900-0156 (108-Inch)
54-Inch Water Line: Vickery Dr. from Aeropark Dr. to World Houston Pkwy.
108-Inch Water Line: Lee Rd. to Vickery Dr.
S-000900-0127 & S-000900-0156 Presentation
S-000900-0127 & S-000900-0156 FAQ's
60 Inch Water Line Along Glen Valley Dr, Santa Elena St, and Colgate St, from Rockhill St, to Dixie Dr.
(S-000900-0129)
(S-000900-0130)
Glen Valley Dr, Santa Elena St, and Colgate St, from Rockhill St, to Dixie Dr.
(0129) Project Presentation
(0130) 60WL Preconstruction Presentation
(0130) 60WL Preconstruction FAQ
Construction Update Presentation
Airline Dr. (Clark Rd) Reconstruction Project
Project No. M-000284-0002
Generally bound by Parker Rd. (north), Tidwell Rd. (south), Bauman Rd. (east), Fulton St. (west)
Airline Presentation
Airline Phasing Mapt
Airline FAQ's
Alabama Street Reconstruction
Weslayan to Buffalo Speedway - N-000751
Shepherd to Spur - N-100020
4 segments - Weslayan to Almeda. City of Houston has responsibility for two of the four segments.
Weslayan to Buffalo Speedway (City of Houston - Design)
Buffalo Speedway to Shepherd (Upper Kirby TIRZ)
Shepherd to Spur (City of Houston - Planning)
Spur to Chenevert (Midtown TIRZ and HCC)
Planning Meeting Presentation
Planning Meeting Handout

Antoine Drive Reconstruction
N-2013T-0013 and N-100030
Antoine North: Victory Drive to Bridge Forest Drive (N-100030 - funded project)
Antoine South: Highway 290 to Victory Drive (N-2013T-0013 - not yet funded)
Design Meeting Presentation
Design Meeting Handout
Project Video
Report of Public Comments
Arlington Heights
M-410006
E. Edgebrook Drive to the south, S. Shaver Street to the east, Parliament Drive to the south, Galveston Road to the west
Design Meeting Presentation
Design Meeting Handout
Arlington Heights Project Information Update
Avalon Place Neighborhood Reconstruction Project
R-002011-0089-3
This project is located within Districts C and District G. The Avalon Place Project is bordered by San Felipe Street to the north, Driscoll Street to the east, Westheimer Road to the south and the proposed boundary ends at Kirby Drive on the west. See presentation and exhibits for specific street reconstructions proposed as part of this project.
Design Meeting Presentation
Proposed Pavement Width
Proposed Sidewalk Plan
Proposed Fairview Mobility Solution
Avalon Place Project Information Update
Binglewood Reconstruction
M-000293-0001-4
Generally bound by Clay Road on the north, Brickhouse Gully on the south, Hollister on the east, and Peppermill Road on the west.
Meeting Presentation
Binglewood FAQ
QA Constituents
Water Line Replacement in Briar Court Area
S-000035-0228-4
Memorial and Beauregard Dr. (north), Westheimer Rd. (south), Gessner Dr. (east) and W. Sam Houston Pkwy (west).
Briar Court Area Presentation
Briar Court Area Phasing Map
Briar Court Area FAQ
Briarmeadow Drainage and Paving
M-410009
Briarmeadow subdivision
Design Meeting Presentation
Design Meeting Handout
Report of Public Comments
Broadway Reconstruction
N-100013
I-45 to Old Galveston Road
Design Meeting Presentation
Design Meeting Handout

Cloverland Reconstruction
Phase 1 (South of Tavenor) - N-210004
Phase 2 (North of Tavenor) - N-210004
Between Howcher Street to the north and Heritage Trail Drive on the south; and between Cullen Boulevard on the east and Leitrim Way to the west
Design Meeting Presentation
Design Meeting Handout
Cottage Grove - East
M-2015-C01 East
Bounded by the Southern Pacific Railroad (north), I-10 (south), White Oak Bayou (east), and TC Jester (west)
Planning Meeting Presentation
Planning Meeting Handout

Cullen Boulevard Need Area
N-2015T-0002
Cullen between N. MacGregor Way and IH-45

Design Meeting Presentation



Dunlavy Reconstruction
N-100010 and N-100001
North Segment – Allen Parkway to Peden (N-100010)
South Segment – Richmond to W. Alabama (N-100001)
Design Meeting Presentation
Design Meeting Handout

El Dorado Reconstruction Project
N-100035
Project limits are between Clear Lake City Boulevard to just south of Horsepen Bayou. Project will include a new bridge over Horsepen Bayou.)
Design Meeting Presentation
Design Meeting Handout
Design Meeting Roll Plot 17-ft median
Design Meeting Roll Plot 22-ft median
Design Meeting Roll Plot 32-ft median
Project Status Report - Jan. 2018
Fondren Reconstruction (N-100008)
Creekbend Drive to S. Braeswood Blvd.

Design Meeting Presentation
Design Meeting Handout
Freeway Manor North - M-410010
Freeway Manor South - M-410008
Gulf Terrace - M-410007
Bound by Globe St. (north), just south of Hartsook St. (south), Berry Bayou (east) and Theta St. (west)
Design Presentation
Overall Project Area
Informational Meeting Overall Map Handout
Informational Meeting Fwy. Manor North Handout
Informational Meeting Fwy. Manor South Handout
Informational Meeting Gulfway Terrace Handout
Freeway Manor Project Information Update
Garden Oaks and Shepherd Park (Central) Paving and Drainage Project
M-000285
Bounded by Janisch Road to the North, Judiway Street to the South, North Shepherd Drive to the East, and Ella Boulevard to the West

Construction Meeting Presentation




Construction Meeting Handout



Gillette Trunkline (Genesee Segment)
M-410290-0003-4
Genesee between West Dallas Street and Helena

Construction Meeting Presentation




Construction Meeting Handout



Glen Iris Construction Project
S‐000035‐0198‐4
Area 1 Wuthering Heights (north), just south of Ebbtide (south), Ambrose (east) Townwood (west) and Wilmington (north)
Area 2 Wilmington (north), Barberry (south), Ferdinand (east), just beyond Heno (west)

Glen Iris Presentation




Glen Iris FAQ



Gray and Taft Area
(N-210008)
W. Gray St. (North), Welch St. and Dennis St. (South), Webster St. (East), and Taft St. (West)
Planning Meeting Presentation
Planning Meeting Handout
Planning Meeting Information Update
Greenbriar Reconstruction
N-100004
Rice Blvd to Holcombe Blvd

Design Meeting Presentation




Design Meeting Handout


Report of Public Comments
Greenbriar Exhibit Schematic
Greenbriar TCP Phase Exhibit Schematic Construction Meeting Presentation Frequently Asked Questions
Hillcroft Reconstruction
N-100012
Hillcroft between Beechnut to Bissonnet

Design Meeting Presentation




Design Meeting Handout




Hillcroft Project Information Update

Hughes Road Drainage and Paving
N-000705-0001-4
From Sam Houston Pkway to City Limits

Construction Meeting Presentation




Construction Meeting Handout

Huntington Village Sec. 4
N-210006
North of W. Bellfort Ave., west of S. Dairy Ashford Rd., south of Keegans Bayou, and east of Tenneco Dr.

Design Meeting Presentation




Design Meeting Handout

Inwood Forest Reconstruction Project
M-410025
West Gulf Bank Road on the north, HCFCD Unit E140-00-00 and E240-00-00 on the west, (Zimmermann and Green Lawn Dr.), White Oak Bayou (HCFCD Unit E100-00-00) and Victory Drive on the south, Antoine Drive on the east.
Design Meeting Presentation
Design Meeting Handout
Inwood Forest Exhibit Map
Inwood Forest Project Information Update
Kirkwood Reconstruction
N-100029
Kirkwood between Westheimer to Buffalo Bayou
Design Meeting Presentation
Design Meting Handout
Typical Cross Section Handout
Kirkwood Project Information Update
Kirkwood Project Information#2
Linkwood Reconstruction
N-210002-0001-4
Stella Link (west), Ilona (east), S. Braeswood Blvd. (north), Link Ct (south)
Linkwood TCP
Linkwood FAQ
Lockwood Reconstruction
N-100027
Crites Blvd to Harrisburg Blvd
Design Meeting Presentation
Design Meeting Handout
Long Point Reconstruction
N-2015-(A01)-00019/00025
N-2013T-A01 - Long Point: Blalock to Wirt
N-2015T-A01 – Long Point: Hempstead to Gessner
Design Meeting Map
Magnolia Park Reconstruction Project
M-410015
Bounded by: Canal St. to the north, Brays Bayou to the south, E. Navigation Blvd. and S. 80th St. to the east, and 74th St. to the west
Design Meeting Presentation
Design Meeting Handout
Magnolia Point Unserved Areas
Magnolia Point Area
Magnolia Point Informational Presentation
Magnolia Point Project Map
Market Square, Garner Villas, Parkhill
N-210010
IH10 to the north, Hirsch Road to the West, Lockwood Drive to the East, and Clinton Drive to the South
Design Meeting Presentation
Design Meeting Handout
Market Square Project Information Update
Water Line Replacement in Memorial Bend and Briar Forest Area
Project No. S-000035-0212
Project is generally bound by Memorial Dr. and Cobblestone Dr. (north), Briar Forest Dr. (south), Briarpark Dr. (east), and West Sam Houston Parkway (west)
Memorial Bend and Briar Forest- WLR Presentation
Memorial Bend and Briar Forest Area FAQ
Exhibits
Memorial Paving and Drainage
N-000798
Eldridge Parkway to Kirkwood
Construction Meeting Presentation
Construction Meeting Handout
Montrose Area and Midtown Drainage Project
WBS No. N-000400-0001-4
Bounded by: West Alabama on the north, Richmond on the south, Spur 527 on the east and Montrose on the west
Construction Meeting Presentation
Construction Meeting Handout
Nottingham (Kirkwood) Area
M-000247
Kirkwood Rd. from Memorial Drive to Britoak Lane (south of Katy Freeway)
Design Meeting Presentation
Design Meeting Handout
Kirkwood Traffic Study
Nottingham Information Update
North Kirkwood Road Exhibit I
North Kirkwood Road Exhibit II
Neighborhood Street Reconstruction No. 468 (District D)
Project No. N-000401-0001
Generally bounded by Murr Way to the east, South Acres Drive to the north, Roandale Drive to the west and Selinsky Road to the south
Construction Meeting Presentation
NSR 468 FAQ (District D)
Pinewood Village South Area Drainage and Paving Project
M-410021-0001-3
Bound by Little York Rd. (north), Langley Rd, (south), Bentley St. (east) and Royal Pine Dr. (west).
Pinewood Village Presentation
Pinewood Village Handout 1
Pinewood Village Handout 2
Pinewood Village Project Survey
Roseland Area Drainage and Paving
N-210005
Bounded by Richmond Ave. (North), US-59 (South), Spur 527 (East), Montrose Blvd. (West)
Design Meeting Presentation
Design Meeting Handout
Sagemont Drainage and Paving Project
Bound by Sam Houston Tollway on the north, Sagedowne Lane on the south, Sageoak Lane on the east and Sagemeadow Lane on the west
Construction Meeting Presentation
Sagemont FAQ's
Meeting Exhibits
Shepherd Durham Area
N-100003
Dickson (North of Memorial Drive) to Washington Avenue
Design Meeting Presentation
Design Meeting Handout
Sherwood Forest Area
M-000263-0001-4
Memorial Drive, between Industrial Blvd and Silber Road; Industrial Blvd between Katy Freeway and Memorial Road; Silber Road between Katy Freeway and Memorial Drive
Construction Meeting Presentation
Construction Meeting Handout
Skyscraper Shadows Reconstruction Project
WBS No. M-000126-0070-4
Bounded: Just north of Swiss Ln. (north), Just south of Wayfarer Ln. (south), Ballantine St. (west), Monroe Rd. (east)
Design Meeting Handout 1
Design Meeting Handout 2
Public Comments Process
Skyscraper Shadows Project Information Update
Southland Area
M-410014
Old Spanish Trail to the north, 288 to the west, Scott St. to the east, and Alice St. to the south
Design Meeting Presentation
Design Meeting Handout
Design Meeting Project Information Update
South Gessner Corridor Reconstruction
N-100017
South Gessner between Richmond and Buffalo Bayou
Design Meeting Presentation
Design Meeting Handout
Design Meeting Roll Plot
Design Meeting Intersection Exhibit
Design Meeting Typical Section
Design Meeting Project Information Update
Spring Shadows North M-410005
Spring Shadows North Area - Bounded on the North by Kempwood Drive
On the West by by Gessner Drive
On the South by Buttermilk Creek
And on the East by Palo Pinto Drive
Design Meeting Presentation
Design Meeting Handout

Tanglewilde Area
Generally bound by Westheimer Rd. (north), Richmond Ave. (south), Dunvale Rd. (east), Rockyridge Dr. (west).
Construction Meeting Presentation
Tanglewood Phasing Plan
Tanglewilde FAQ
Tanglewood NSR 454 Reconstruction Project - N-000386-0001-4
Generally bound by Woodway to the north, San Felipe to the south, South Post Oak Lane to the east, and Chimney Rock to the west.
Tanglewood Presentation
Tanglewood FAQ
TC Jester Reconstruction
Phase 1 - Washington to Larken - N-100002
Phase 2 - Larken to Timbergrove - N-10000
Washington to Timbergrove Lane (2 Project Phases)
*Note: The limits of each Project Phase was modified after public comment, but the entire project limits are unchanged. Formerly, the project was broken into phases: Washington to IH-10 and IH-10 to Timbergrove Lane.
Design Meeting Presentation
Design Meeting Handout
Design Meeting Project Information Update
University Blvd. Reconstruction
N-100006
University Boulevard Between Kirby Drive and Main Street
Design Meeting Presentation
Design Meeting Handout
Intersection GreenBriar
Intersection Morningside
Intersection Stockton
Typical Section 1
Typical Section 2
Project Information Update
Water Line Replacement in Woodway Area
(S-000035-0214-4)
Generally bounded: (north) Kirwick Dr. and Woodway, (south) Westheimer Rd,(east) Bridge Ridge Dr, and (west) S. Piney Point Rd.
Woodway Presentation
Woodway FAQ
W. Bellfort Reconstruction
N-100022
From S. Dairy Ashford to Highway 59
Design Meeting Presentation
Design Meeting Handout
Watonga Blvd Paving and Drainage Project
N-000811-0001-4
Watonga Blvd. from W. 43rd St. to W 34th St.
Construction Meeting Presentation
Construction - FAQs
Phasing Map
Westchester ll Construction Project
S‐000035‐0200‐4
just north of Shady Forest (west), Pinesap (east), Chadbourne and Cindywood (north), Quail Grove (south)
Westchester II Presentation (Westchester-Final)
Westchester II FAQ
Westchester II Exhibit
Westbury
M-410028
Area bounded by Willowbend to the north, Chimney Rock to the east, Main (90A) to the south and Braewick Drive to the east.
Design Meeting Presentation
Westtbury CIP project
Westtbury CIP Subprojects
Identification Project
Westbury Project 1
Project Information
Westheimer Road / Elgin Street
(Lower Westheimer Study)
N-2013T-C01/N-100034
Westheimer Road - Shepherd Drive to Bagby Street Elgin Street - Bagby Street to Main Street.
Planning Meeting Presentation
Planning Meeting Survey
Planning Meeting Comment Card
W. Fuqua Reconstruction
N-100025
City Limits to Bazel Brook
Design Meeting Presentation
Design Meeting Handout
West Fuqua Project Information Update
Westridge / Braes Terrace Reconstruction

Within the Brays Bayou Watershed and Council District K; between Timberside Dr. and Buffalo Speedway north of IH 610 and south of S. Braeswood Blvd.
Design Meeting Presentation
Design Meeting Handout
Wastewater Line Replacement Handout
Westridge Project Information Update
Woodshire
M-410001-0001-4
Just north of Glenshire Rd. (north), Leeshire Dr. (south), Fordshire Dr. (east), Bassoon Dr. (west)
Woodshire Updated Presentation
Woodshire Updated FAQ-Construction
Wycliffe Reconstruction
(M-001010-0001-4)
Chatterton Rd: From Wycliffe Dr. to Sherwood Forest St.
Pre-Construction Meeting Presentation
Pre-Construction Project Summary
Construction FAQ
Wynnewood Acres Area
(M-410014)
Penelope Dr. (North), Gloria Dr. (South), Wynnewood St. (East) and Oates Rd. (West)
Design Meeting Presentation
Design Meeting Handout
Wynnewood Acres Project Information Update
Yorkshire Drainage and Paving
(M-000247-0002-4)
Bounded by: Memorial Drive (north), Buffalo Bayou (south),
Regentview St. (east), Kirkwood Rd. (west)
Project Presentation
Project FAQ